Flip Zero Gravity V.S. Flip Zero - What's the difference?
Judging from the appearance, apart from the pattern on the Pressure Pad area, the Flip Zero Gravity model may not seem much different from the original Flip Zero. However, when you open it and examine the internal details, you will clearly see the changes.
Tenga's research and development team focused on reducing the "empty space" inside, aiming to achieve the densest possible level of detail that can be achieved with the molding technology. As a result, the Flip Gravity model can provide users with a more enjoyable and smooth stimulation from rapid movements, as it is more seamless and softer. The original Flip Zero cannot achieve this because it has large internal cavities, which create empty spaces.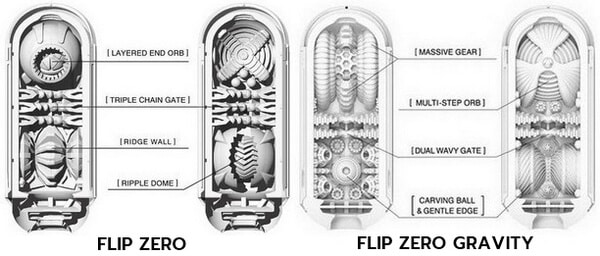 From the image, it is evident that the details of the Gravity model are much tighter and more compact. This helps deliver a smoother, seamless, and faster sensation compared to the previous model. Of course, other standout features of the original model, such as the Integrated Pivot technology, which provides a seamless entry point, capable of delivering sensations to the utmost limit, are still present.
Therefore, it can be said that the Flip Gravity model can accommodate faster and more vigorous movements with a greater level of smoothness compared to its predecessor.
The differences between Tenga Flip Zero Gravity Black and White
White (Soft Edition) still retains its outstanding feature of a gentle and soft texture inside the sleeve, with a level of tightness that meets Tenga's standards.
Black (Strong Edition) is made from a material with a tighter texture, accompanied by increased dynamic internal details to enhance the fit and intensify the sensation.
Product Video
We also provide express delivery with cash on delivery service.
(Only available in Bangkok and metropolitan area)

TENGACLUB
Promotion: Special discount of 150 baht
when purchased together with Nuru Gel.

Click now!
Internal Texture based on real-life photos:
Tenga Flip Zero Gravity White Internal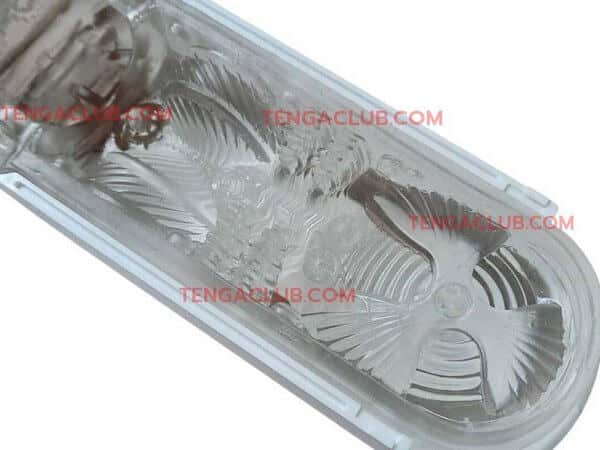 FLIP ZERO GRAVITY WHITE TEXTURE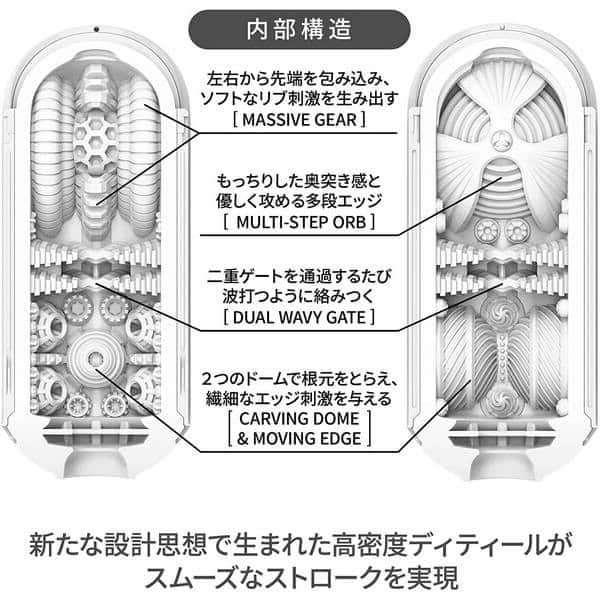 White Edition
When you enter through the opening, you'll encounter the first welcoming feature, the tight-fitting dome on both sides.
Along with a moving spiral that stimulates you throughout the motion.
As you slide in, you'll experience contact with wave-like double doors.
Finally, the smooth flow leads to the multi-layered sensation of the Earth's globular surface, enveloping the tip with dual-winged flaps.
FLIP ZERO GRAVITY BLACK TEXTURE
FLIP ZERO GRAVITY BLACK TEXTURE
Black Edition
When you insert, you'll encounter stimulation from the rectangular chamber and the surrounding high-walled triangular edges, pushing you to contact with all four corners.
Passing through the central toothed groove enhances the intense stimulation as you slide.
When you reach the end, you'll encounter spherical ball-shaped protrusions, stimulating the tip in a net-like pattern.
Along with the dynamic grip of the surrounding textured material.
Reviews of the WHITE Edition from customers in Japan:
"I'm impressed with its softness. I'm someone who enjoys fast and intense movements, and its softness is perfect for me. Especially when I press the buttons to make it snug before insertion, the sensation makes me love it even more."
"Among all the TENGA series I have used up to now, it is the closest to the real thing! I feel so good that I can't help but sing praises. In one word, it's truly excellent."
"It gives me a whole new experience when I'm enveloped in the special soft gel and the intimate atmosphere it provides is even more amazing than I imagined. I can also feel the pressure from my own hand. I love the diverse sensations it offers."
Review of the Black edition from customers in Japan.
"When I used it for the first time, I felt its strong intensity. I recommend it for those looking for intense stimulation rather than softness."
"I liked GRAVITY WHITE, so I wanted to try BLACK. At first, I was afraid it would be too tight, but when I tried it, I felt comfortable at an appropriate level and quite relieved. I choose between white and black depending on my mood."
ฉันชอบ GRAVITY WHITE ฉันเลยอยากลองใช้ BLACK ตอนแรกฉันกลัวว่ามันจะกระชับเกินไป แต่พอลองใช้แล้วฉันรู้สึกสบายในระดับที่เหมาะสมและค่อนข้างโล่งใจ ฉันจะเลือกใช้สีขาวและสีดำขึ้นอยู่กับอารมณ์ของฉัน
Other Highlights:
Flip Zero Gravity is designed with a new concept, utilizing a zero-gravity balance for a deep, floating sensation that mimics weightlessness. Experience the pulling force from the vacuum chamber in the center.
All internal details have been redesigned to enhance density and clarity of different textures, providing a more pronounced stimulation within the clear casing.
The flexible material used inside the device is of medical-grade quality, specially designed by Tenga to regain its original shape after stimulation. It also provides suction when in contact with our organ.
The seamless insertion point ensures a perfect fit and a delightful sensation, maintaining the original standard.
The seamless insertion point eliminates the problem of gel leakage, similar to the original Flip Hole series.
Designed with a one-way valve system, allowing air to flow out from the device, intensifying the suction effect in an airtight manner.
It features Pressure Pads, a single extended pad covering the entire device, serving two purposes. It can be squeezed upon insertion to expel air, creating a vacuum suction effect inside the device. Alternatively, it can be squeezed while moving to compress the internal chamber for a tighter grip than before.
Instant insertion without waiting for an erection. Simply push the end of your organ into the device, and you will experience the welcoming sensation from the seamless insertion point and internal suction, as if someone is stimulating you with their mouth.
The folding design allows for easy cleaning in all corners and edges, just like other devices in the Flip series. No hygiene issues or unpleasant odors.
Comes with a sturdy clear case, providing a hygienic storage solution, protecting it from dust and mold.
It has a long-lasting lifespan, durable and cost-effective, with hundreds of uses. With proper usage, care, and maintenance (instructions can be found below), it can last for years.